Highline SD T-III Information Page
Good morning!
The Paraeducator Board is pleased to announce an additional opportunity to apply for the Pipeline for Paraeducator Conditional Loan Scholarship!
The next deadline is just a month away, on March 6th, but if you are unable to apply by this date we have created an additional review date, May 8th. Please be sure to pass this message along to all interested paraeducators.
Details of the program follow:
This program can provide funding for paraeducators interested in earning their residency teaching certificate, who have a minimum of three years classroom experience and no college degree, with up to $4,000 towards earning their Associate of Arts (AA) degree from a Washington community or technical college. Those awarded will be required to complete their AA within two years of award date, making them eligible to enroll in an Alternative Route 1 program to earn certification, and teach for a minimum of two years.
More information on the requirements and responsibilities of candidates are now available: https://www.pesb.wa.gov/paraeducator-board/paraeducator-board-grant-programs/pipeline-for-paraeducators-conditional-loan-scholarship/
We look forward to your application!
---
---
Employee Safety
Based on feedback from the surveys, the hottest topic was Employee Safety. Many examples of unruly children hitting, kicking, biting, throwing objects, and attacking employees. It was the consensus of the members in attendance the District is not providing a safe work environment from violent children.
Because we were able to decipher the data, Doug Henderson and Anthony Murrietta contacted Washington State Labor & Industries prior to the meeting. The agent directed us to the "Safety and Health Core Rules", which are the laws requiring Employers to provide a safe work environment.
Please refer to the Teamsters 763 website, Teamsters III, Putting your Employer on Notice link. We are preparing step by step instructions on what to do when faced with this situation.
?
Safety and Health Core Rules
Employer Responsibilities: Safe Workplace
296-800-11000 Employer Responsibilities: Safe workplace Summary
296-800-11005 Provide a workplace free from recognized hazards
296-800-11010 Provide and use means to make a workplace safe
296-800-11015 Prohibit employees from entering, or being in, any workplace that is not safe
296-800-11020 Construct your workplace so it is safe
296-800-11025 Prohibit alcohol and narcotics from your workplace
296-800-11030 Prohibit employees from using tools and equipment that are not safe
296-800-11035 Establish, supervise, and enfore rules that lead to a safe and healthy work
296-800-11040 Control chemical agents
296-800-11045 Protect employees from biological agents
Employee Responsibilities
296-800-12000 Rule
296-800-12005 Employee responsibilities
?
Putting Your Employer On Notice
What to do when violently attacked by a child at school? Start by placing your employer on notice. File a report to ensure you properly documented the incident. File as many as is appropriate.
Click on the report below to download the interactive word document. Once you've filled out the form, please be sure to make a copy for your own records.
?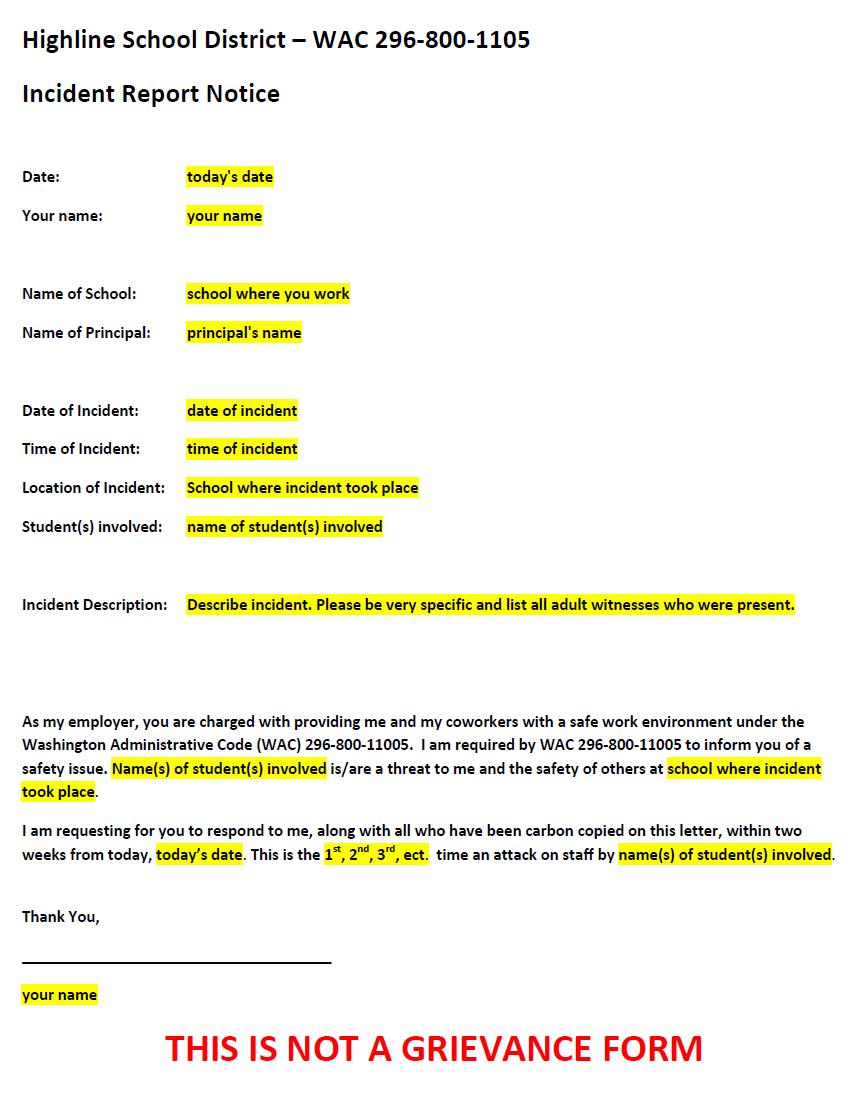 ?
Bargaining Committee Expectations
The members unanimously ratified the follow expectations of the bargaining committee:
All proposals will first be viewed and vetted by the bargaining committee prior to submitting it to the district,




All phones, i-pads, tablets, etc shall be turned off during bargaining,




All members of the committee shall be encouraged to participate in the discussions with the district (understanding there is a chief spokesperson),




All members of the bargaining committee are encouraged to communicate with the members of Teamsters III bargaining unit what is taking place during bargaining and encouraged to bring back to the committee the member's feedback,




The committee shall post contract updates on the Teamsters 763 website after each session,




All members of the bargaining committee are expected to attend the meeting(s) preparing the proposals and the negotiation sessions,




Any member of the bargaining committee who violates these expectations will be removed from the committee.
?
Meal and Rest Periods and Hours Worked
We also discussed employees missing their Meal and Rest Periods and Hours Worked. The Union provided copies of Labor and Industries Administrative Policies regarding both of these topics. Please familiarize yourself with both of these Administrative Policies:
Washington State Labor and Industries ES.C.2
Washington State Labor and Industries ES.C.6
If your school is not allowing for proper breaks and/or lunch periods or violating work hours, you may file a grievance or a complaint with L&I.
Early Education Paras are in need of a classification study due to the recent changes in their duties, all others were reviewed during the last year.
?
Bargaining Committee Members
The bargaining committee is as follows:
Betty Albright, Para
Laura Butler, Para
Peach Aigbe, Para
Patty Boyd, Para
Debi Bosch-Gravel, Nurse
Jessica Kido, Other
Rochelle Kelley, Nutrition Services
Deb Marbet, Office (elementary)
Patti Zimmerman, (high school)
?
---
Page Last Updated: Feb 01, 2018 (09:42:17)