Highline SD T-III Information Page
Highline Teamsters III Contract Ratification Vote
06.11.15
Monday Evening, the members of Teamsters III at the Highline School District overwhelmingly passed the proposed collective bargaining agreement. Those in attendance passed the agreement with an 81.5% approval. The contract calls for 2% above the state pass through in the first year of the agreement, state pass in year two and 1% above state pass through in year three of the agreement.
The Local would like to ackowledge the hard work of the bargaining committee put into accomplishing the goals of the bargaining unit.
Thank You.
Anthony Murrietta
Business Agent
?
---
Highline Teamsters III Contract Ratification Vote
05.26.15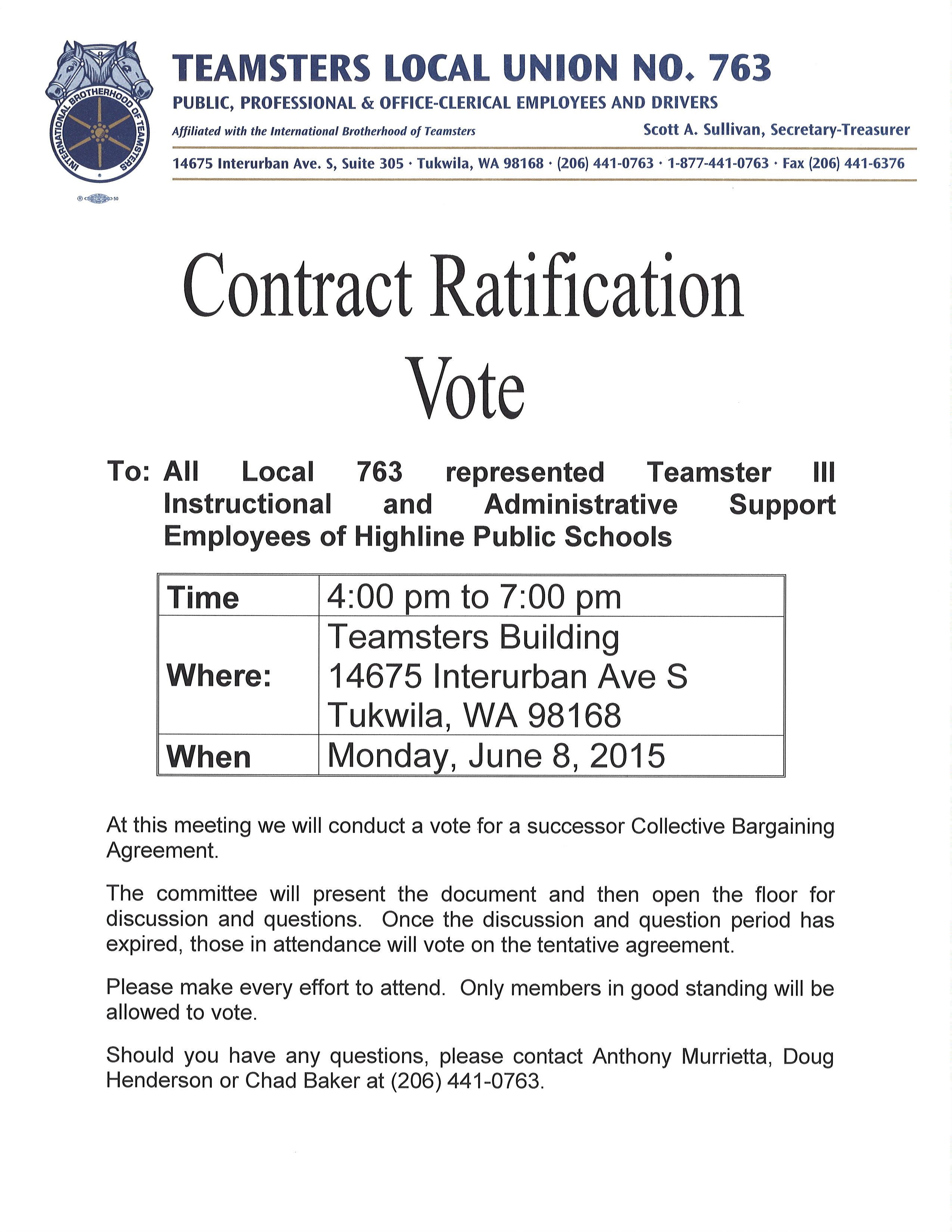 ?
---
Highline Teamsters III Contract Update
04.07.15
The Bargaining Committees met on May 5th & 6th for productive meetings. We are approaching the end of the school year and with the State Legislature still in special session, we don't know where the funding levels will be. With that said, both parties are working to improve the working conditions for all of the Teamsters III employees.
As of the end of the May 6th session, we have reached the following tentative agreements:
Article 1
Temporary assignments lasting at least twenty days will trigger a re-calculation of the prorated benefit level for those part-time employees who are benefited.
Grammatical fix cross-referencing Article 10 as relevant language to this particular situation.
Article 7
Clarifying temporary work shall be assigned by availability, seniority and qualification within each school or worksite.
Work should go the the most senior, available person who would normally do said work.
Shift shall be created in such a manner to provide work in the following order:

maximize full-time shifts (may mean 6.5 hrs or more for paras)
split shift and
part-time broken schedules last

The schedules may be reviewed by a representative of the District, Union, Pricipal, and bargaining unit member and subject the review to the grievance process. The Union will designate the bargaining unit member when a steward is not available.
Article 8
Grammatical cleanup. No substantive change.
Article 9
Bereavement Leave approval by immediate supervisor. No longer needs HR Director approval.
Also clarified that the two additional days of sick leave a person may request for bereavement leave needs the HR Director's approval.
Article 10
Improvement to layoff language. A clear order of how a layoff will take place when hours are cut in a school, program or building. This will stop the potential for displacement of an employee senior to other employees within the same classification and also for employees who may be the most junior employee within a classification but not the most junior employee within the school. This also clears up bumping and transfer rights in the event of a reduction of positions within the school or building. This is a HUGE improvement.
Also, clarifying principals and supervisors may assign without posting for 3 hours or less. This was a grammatical change. The district had this right but some believed it did not read clearly.
Article 11
The District will notify the bargaining unit member of the member's need to bring a Union Rep to any meeting which may result in discipline. A reasonable delay may take place to get a Union Rep. Any agreed upon delay, over two days, will also extend the District's timeline for discipline.
Parties recognize in extreme cases such as theft, violence, abuse, or matters of such magnitude, The District may take immediate action. Nothing herein shall limit the emloyee's rights under Weingarten.
Article 13
District will pay for all CPR training
Others Updates: We sill have assaults from students to address along with wages.
Should you have any questions, please feel free to ask your negotiation bargaining committe members and/or your business agents.
Remember, this is only a summary.
Anthony Murrietta
President
Teamsters Local #763
>
---
Highline Teamsters III VEBA Meeting Notice
04.27.15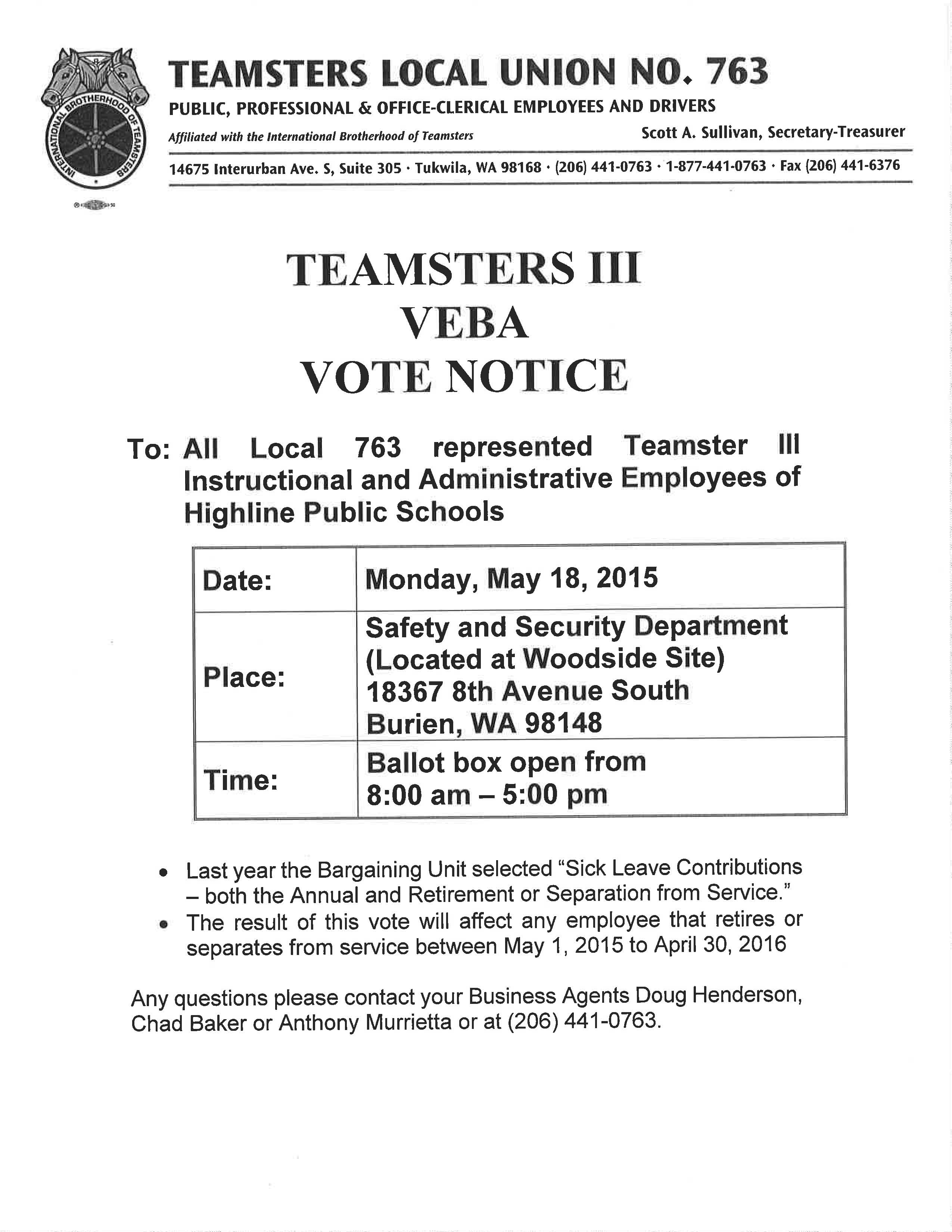 ?
---
Highline Teamsters III Contract Update
04.01.15
The bargaining Committees met on March 20th and March 30th for half day sessions. We had productive discussions with no tentative agreements reached either day. Although there is nothing concrete to report regarding reaching any agreed upon changes, good strong dialog was had regarding layoffs and bumping rights for members of the bargaining unit. We also discussed the need for training during normal work shifts.
The entire Bargaining committee has been engaged in dialog regarding working conditions, hours of work and schedules. Student incident reporting continues to be a hot topic with the Union's committee. Safety in the work place continues to be paramount. The parties are also close to reaching agreement on modifications to Article 11 Discipline and Discharge. We have reached an agreement on principal that the employee should be given proper notice of a need to bring a union rep to an investigational meeting. The Union has agreed on principal also, there are a few items of such severe nature; the District would be within their rights to remove someone from the work area immediately for incidents such as theft or violence. Details are to be hashed out, but I believe we are optimistic about finalizing Article 11 also.
Anthony Murrietta
Business Agent
Teamsters Local #763
?
---
Highline Teamsters III Contract Update
03.17.15
March 17 was a bit more tense. We discussed, in length, staff assaults and incidents involving student "near misses" when referencing assaults. Many reports of unruly children came about during our demands meeting. The members spoke clearly about the Union addressing concerns regarding children who attack staff. Not all schools (or principals) are created equally. Therefore, some administrations are encouraging members to report the incident or assault while others are not. The Union will aggressively address this issue regarding worplace safety. We will either get strong safety language which may be enforced, or we will agree with nothing. If we cannot reach an agreement , we will continue to address workplace safety by posting the district's current policy which encourages the staff member to utilize all resources including outside agencies. The Local Union will continue to assist the members by providing guidance in filing Labor and Industries complaints for workplace violence, encouraging the member to call 911 when attacked by a student, alerting parents of the dangers of unruly children who are causing harm within the classrooms and briging this issue to the School Board and Public's attention through any and all means possible.
We also had positive discussions regarding Article 10 seniority rights during a reduction of position(s) and productive dialogue regarding investigation procedures. We meet again on Friday, March 20, 2015.
Anthony Murrietta
Business Agent
Teamsters Local #763
?
---
Highline Teamsters III Contract Update
03.16.15
Today March 16, 2015, the Union and School District representatives exhanged initial proposals. We reached tentative agreements on four seperate issues. Each issue was housekeeping, meaning the language change was intended to make things easier to read and/or understand.
The tone was cordial and respectful from all in attendance. The parties began meeting at 9:00AM and concluded at 4:00PM. We agreed to discuss all non-economic items prior to discussing money.
The changes incldued the elimintation of the word "worked" from section 8.2.1 along with adding a cross reference of section 8.2.1.2. This change eliminates a potential conflict on interpretation of "what are hours worked" which is defined in section 8.2.1.2.
Section 8.2.4 added the words "for 12-month employees". No substantiate change.
Section 9.2 Bereavement Leave. Request for bereavement leave will now be approved by immediate supervisor and not the Executive Director of HR. This is how the district has been approving bereavement anyway.
Section 10.9.3 eliminates "up to 3 additional" and replaces it with "3 or less". Again, no substantiate change, but we think it reads better.
Anthony Murrietta
Business Agent
Teamsters Local #763
?
---
Highline Teamsters III Contract Update
March 3, 2015
Today, representatives of the Local and School District met to set dates for bargaining a successor agreement. Bargaining will be held:
March 16, 2015 8:00am - 4:00pm at Facilities Bldg A.
March 17, 2015 8:00am - 4:00pm at Facilities Bldg A.
March 20, 2015 8:00am - 4:00pm at Facilities Bldg A.
March 30, 2015 8:00am - 12:00pm at Facilities Bldg A.
April 2, 2015 8:00am - 12:00pm at Teamsters, South Conf. Room
May 5, 2015 8:00am - 4:00pm at Teamsters, South Conf. Room
May 6, 2015 8:00am - 12:00pm at Teamsters, South Conf. Room
May 19, 2015 8:00am - 4:00pm at Teamsters, South Conf. Room
June 1, 2015 8:00am - 4:00pm at Teamsters, South Conf. Room
June 5, 2015 8:00am - 4:00pm at Teamsters, South Conf. Room
Steve Grubb, Chief Talent Officer informed us the District's Committee will be:
Janae Marking, Finance/HR
Sid White, Facilities
Nancy Melius, Principal
Teressa Barron, HR
Rachel Miller, Attorney for HPS
The parties are expected to be at bargaining at 8:00AM each morning.
The next update will be posted on this webpage the evening of bargaining.
?
---
Highline Teamsters III Contract Updates
02/24/15 (updated)
02.12.15 (original)
The Demands meeting was held on February 11, 2015 at the Teamsters Hall. The survey results were confirmed and the results were as follows, in descending order:
Wages are top priority




Adding Language which ensures all additional contract service hours are calculated when prorating benefits including vacation, sick leave, FMLA, etc.




Provide stronger language regarding seniority protection (bumping rights when a position is eleminated or reduced) within the school




Language requiring the District to notify an employee of his/her need to bring a union rep to a meeting




Provide stronger language for bumping within the District when a position is eliminated or reduced
?
Employee Safety
Based on feedback from the surveys, the hottest topic was Employee Safety. Many examples of unruly children hitting, kicking, biting, throwing objects, and attacking employees. It was the consensus of the members in attendance the District is not providing a safe work environment from violent children.
Because we were able to decipher the data, Doug Henderson and Anthony Murrietta contacted Washington State Labor & Industries prior to the meeting. The agent directed us to the "Safety and Health Core Rules", which are the laws requiring Employers to provide a safe work environment.
Please refer to the Teamsters 763 website, Teamsters III, Putting your Employer on Notice link. We are preparing step by step instructions on what to do when faced with this situation.
?
Safety and Health Core Rules
Employer Responsibilities: Safe Workplace
296-800-11000 Employer Responsibilities: Safe workplace Summary
296-800-11005 Provide a workplace free from recognized hazards
296-800-11010 Provide and use means to make a workplace safe
296-800-11015 Prohibit employees from entering, or being in, any workplace that is not safe
296-800-11020 Construct your workplace so it is safe
296-800-11025 Prohibit alcohol and narcotics from your workplace
296-800-11030 Prohibit employees from using tools and equipment that are not safe
296-800-11035 Establish, supervise, and enfore rules that lead to a safe and healthy work
296-800-11040 Control chemical agents
296-800-11045 Protect employees from biological agents
Employee Responsibilities
296-800-12000 Rule
296-800-12005 Employee responsibilities
?
Putting Your Employer On Notice
What to do when violently attacked by a child at school? Start by placing your employer on notice. File a report to ensure you properly documented the incident. File as many as is appropriate.
Click on the report below to download the interactive word document. Once you've filled out the form, please be sure to make a copy for your own records.
?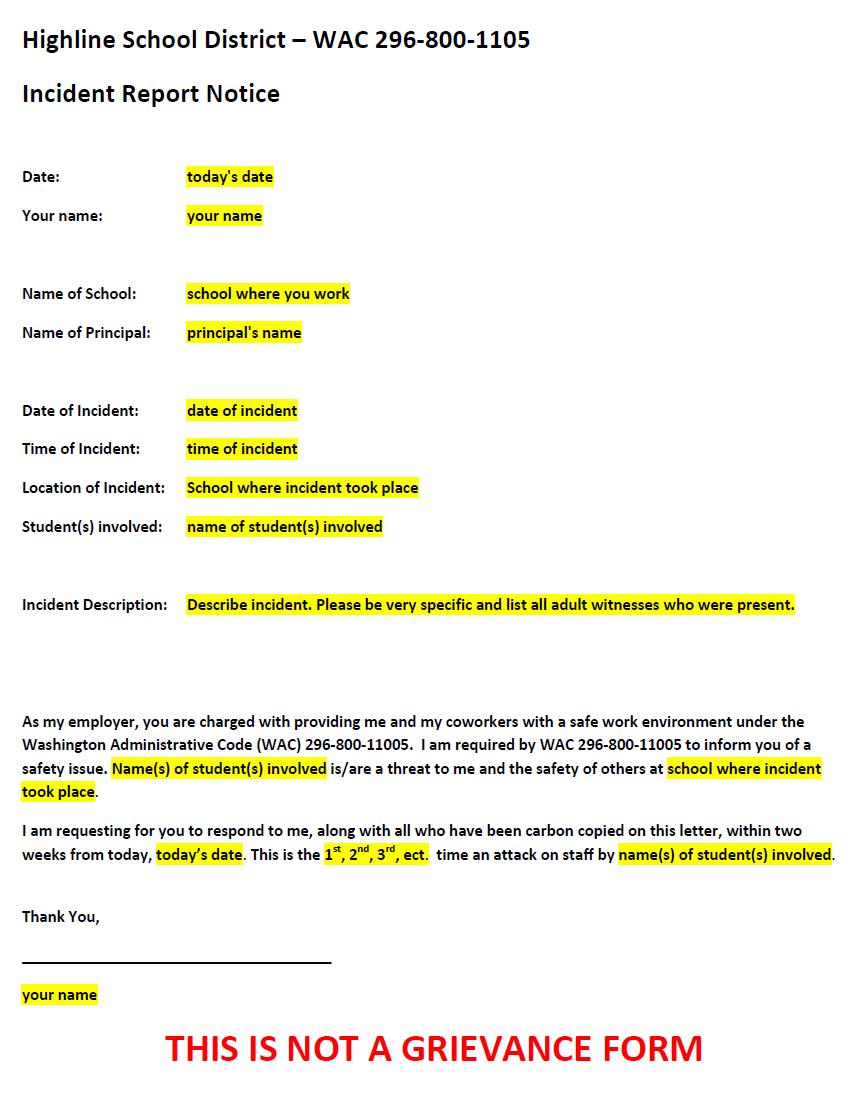 ?
Bargaining Committee Expectations
The members unanimously ratified the follow expectations of the bargaining committee:
All proposals will first be viewed and vetted by the bargaining committee prior to submitting it to the district,




All phones, i-pads, tablets, etc shall be turned off during bargaining,




All members of the committee shall be encouraged to participate in the discussions with the district (understanding there is a chief spokesperson),




All members of the bargaining committee are encouraged to communicate with the members of Teamsters III bargaining unit what is taking place during bargaining and encouraged to bring back to the committee the member's feedback,




The committee shall post contract updates on the Teamsters 763 website after each session,




All members of the bargaining committee are expected to attend the meeting(s) preparing the proposals and the negotiation sessions,




Any member of the bargaining committee who violates these expectations will be removed from the committee.
?
Meal and Rest Periods and Hours Worked
We also discussed employees missing their Meal and Rest Periods and Hours Worked. The Union provided copies of Labor and Industries Administrative Policies regarding both of these topics. Please familiarize yourself with both of these Administrative Policies:
Washington State Labor and Industries ES.C.2
Washington State Labor and Industries ES.C.6
If your school is not allowing for proper breaks and/or lunch periods or violating work hours, you may file a grievance or a complaint with L&I.
Early Education Paras are in need of a classification study due to the recent changes in their duties, all others were reviewed during the last year.
?
Bargaining Committee Members
The bargaining committee is as follows:
Betty Albright, Para
Laura Butler, Para
Peach Aigbe, Para
Patty Boyd, Para
Debi Bosch-Gravel, Nurse
Jessica Kido, Other
Rochelle Kelley, Nutrition Services
Deb Marbet, Office (elementary)
Patti Zimmerman, (high school)
?
---
Demands Meeting Notice
1.26.2015
To access the survey online, click here:
http://www.surveymonkey.com/s/teamsters3
---
Page Last Updated: Jun 12, 2015 (09:45:05)